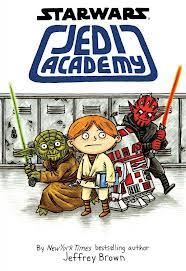 Star Wars: Jedi Academy
Jedi Academy
Paperback
Roan's one dream is to leave home and attend Pilot Academy like his older brother, father, and grandfather. But just as Roan is mysteriously denied entrance to Pilot School, he is invited to attend Jedi Academy--a school that he didn't apply to and only recruits children when they are just a few years old. That is, until now ... (via Goodreads)
This book was on my to-read shelf for a while, but it was not until the yearly book event in Belgium called 'Boekenbeurs' that I decided on getting myself a copy. As I held the hardback version in my hands and going through the pages, I just knew I had to get it.
It is an easy read, and I've read in a couple of days. I would have read it in one day if I hadn't held myself back.
The above bullet is not the same as 'it is a book for kids'.
However, it is surely suitable for children, adults will enjoy it too.
I would suggest it only to people who have a connection with Star Wars, but that is probably an superfluous statement, no?
The art style is sketchy, and I like it.
The comic pages are interleaved with letters, notes, newspapers extracts, and posters. Wonderful!
The story is a classical high school situation, like you can find in a million movies, TV series, and so on, but, of course, with a Star Wars theme to it.
This is what gives it a whole new vibe.
Star Wars is set in a galaxy far far away, but Jedi Academy brings it closer to our earthly life then ever.
Bullying, falling in love and taking an exam. These things might remember you of your childhood. Now, add lightsabers and Force powers. That is 'Star Wars: Jedi Academy'.
The second book in the series is already out, however, I'm holding back on buying it.
The story (and the whole) book was a fun read, but nothing more than that. That's why I only give it three stars, and it also explains the previous and the next bullet.
Buy, borrow or burn? Borrow
However, I picked 'borrow' in the above bullet, I will probably read it again in the future, because, like I said earlier, it is an easy read, and it is great for a lazy Sunday.